Electrical Services London
Why not let an experienced technician handle all your electrical installation work?
What makes your home cosy? – The furniture, the colours of your walls or the lighting…? Isn't the last one even of the greatest importance? Still, if you have well-lit rooms in your house, flat, or in the office building where you work, the atmosphere will be more pleasant!
Get your home up and running with help from the best professional London electricians.
Our skilled handymen can perform all sorts of basic and advanced electrical installation work. For example, our local electricians can:
Switches & Sockets Installation

Water Heater & Radiator Installation & Repair
Let Handyman Near Me take care of everything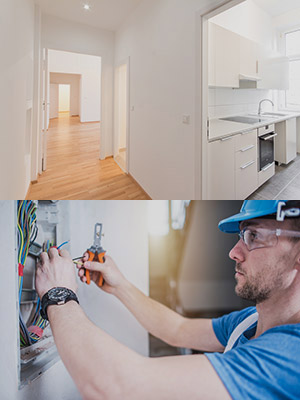 Electrical Installation
We can help with a set of basic and advanced electrical installation jobs. Our handymen can safely connect newly built properties, garages, or property extensions to the local power grid, perform partial or complete rewiring in accordance with the electrical wiring regulations or install sockets, television and telephone points.
White Goods Fitting
Our professional electrician will decipher the complicated instructions for you, keep track of every piece of hardware, and even neatly dispose of your previous appliance. You will have your kitchen appliance up and be running in no time with our capable handyman at your side.
Switches & Sockets Installation
A single faulty power strip can potentially cause serious damage to your sockets or even the entire electrical system at your home. The experienced technicians at Handyman Near Me will get your home back in great shape with a quality switch or socket installation in no time.
Water Heater & Radiator Installation & Repair
From replacing radiator valves or mounting modern electric radiators to installing or repairing water heaters, the precise and seasoned electricians will do whatever it takes to help you keep a comfy temperature in your home.
Benefits Booking Electrician Near Me
24/7 Electrical Services
Reliable and cheap electricians
Same day bookings available
Decide when to get things done
Rely on us in any emergency situation
Enjoy a wide service coverage
We cover all London boroughs
Your safety is very important. We mustn't ignore this factor and when we are in a closed room, have to be sure that the fire detection system works – just in case! Together with that, when we're outside our home, should protect our property by using a special anti-thief alarm system. Nobody knows what may happen during your absence, so ensure yourself and install a reliable system that will keep people away from your house or flat. – By using our services!
If you have a busy daily round and need a full package of services when it comes to electricity (home lighting, alarms, heating, emergency lighting and so on), or maintenance of existing installations as well, trust Handyman Near Me – the electricity expert! We are specialized in the area of commercial and domestic electrical services and know how to "lighten up" your home, or to protect your office too! We understand your needs and are able to fully satisfy them.
Our 24 local electrical services are very varied and meet the different needs of our customers. Depending on your individual problem, we have the right solution. We are qualified to provide services related to fitting and maintenance, testing and control, etc. We are there for you, ready to help you!
We provide our customers with full range of technical services. More and more people trust us, because of our experience, low prices and quality work no matter what it is about. You have the chance to take advantage of our "same day service", that is suitable for people who have an emergency need of repair and respectively – of experienced technician! The same people have a full schedule and have no time to look for days someone to come and fix the non-working alarm system. They need us – the company that is always at disposal!
Repairs, testing and electrical installation – we offer all that in addition to a high standard for all jobs. Get it and forget about the problems with the lighting. Hire Handymen Near Me to fix your electrical issues and make your home and office pleasant and safe place. Our certified electricians are always at your disposal, ready to respond even on last minute or emergency booking!