Locked Out Services London
Why not let an experienced locksmith handle the locked out emergency for you?
Are you locked out of your home or office with no spare key? We offer a professional lock out service in all London boroughs. We will send you a certified locksmith, fully equipped with a wide range of tools, replacement parts and locks, including new models and high-security locks, all in compliance with the BS3621 British standard. Our specialists will help you access your house without damaging your door or the locks. Book a locksmith with Handyman Near Me to get out of the frustrating situation and save time and money!
Get emergency locked out service by booking a qualified locksmith in London 24/7!
Handyman Near Me offers professional lock out service for various situations such as:
You've lost your keys, or they were stolen

The key broke inside your lock

The key got stuck in the lock, but the door won't open

The keys are inside the house in the lock
Let Handyman Near Me take care of Your Lock Out Situation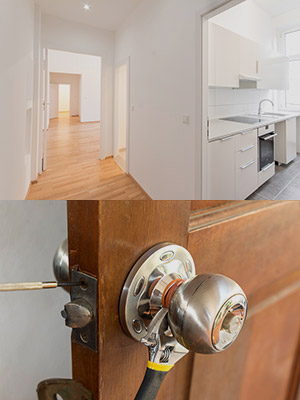 Stuck Key – Blocked or Broken Lock
Our London locksmiths can remove your stuck key whether your door is locked or unlocked. The most common reasons a key gets stuck are: 
lock failure

incorrect lock operation

poorly cut, worn out or broken key

using the wrong key by mistake
Our locksmiths are trained to handle all of these cases, causing no damage to the lock. Please don't force the key out, as it could snap in the lock. Also, don't try to take the door lock apart because this can make the situation even worse. Instead, leave the key alone – our experienced professionals will soon be with you to remove the stuck key fast and safely.
The Key Is In the Lock But On the Inside
It's a common situation, especially with automatic doors – they often shut behind you, with the key still in the lock inside. If you are locked out with your keys on the other side of the door, our locksmiths can quickly fix this problem without drilling the lock! 
Handyman Near Me's experts use specialised tools to help you get in. Thanks to that, there's no damage to the door or the lock. Our certified locksmiths use various methods to help you get into the property, including entering from another entrance, like a back door or window, and then simply opening with the key on the inside.
Whether your keys were stolen, lost or left inside, you can count on us to get you into your home or office! Handyman Near Me has a team of locksmiths ready to help immediately, regardless of the time. Our professionals are trained to open and unlock all types of locks with ease. 
The locksmiths can also cut you a key by hand on the spot, even if you don't have the original one. We also make keys for windows, garage doors, cabinets, drawers, postboxes and other furniture. However, if your keys were stolen, we highly recommend changing the door locks immediately as your security might be compromised.
Key Snapped or Broken Inside the Lock
It's widespread for keys to snap in door locks, especially with euro cylinders, but don't panic – our locksmiths can use their skills to extract the key. We will send you a certified professional equipped with specialist tools and knowledge to remove the broken key safely. Many things can cause a key to break in the lock – from trying to unlock the door using the wrong key, using damaged or worn out keys, and many more. Whatever happened, don't try to remove the broken key, but call us. Our locksmiths will be at your address shortly and fix the problem for you.
Benefits Booking Handyman Near Me
24/7 Locksmith Services

Skilled and vetted professionals

Emergency bookings available

Fully equipped with locks approved to BS3621

Open the door without damaging the lock

Professional locksmiths in your area

A wide array of services for your home or office

You can book us in all London boroughs
Locksmith Services by Handyman Near Me
24/7 emergency locksmith service

Supply a new lock in compliance with the British Standard 

Install a new lock

Cut a new key for your lock

Drill the lock to remove it

Replace the locks with a different type

Repair damaged locks

Provide indoor access in a non-destructive way

Installing CCTV and security cameras
Types of Locks We Can Unlock and Open
Euro cylinder

Anti Snap locks

Night Latches

Mortice locks – 3 lever 

Mortice locks – 5 lever

Locks fitted to solid wood doors

Locks fitted to uPVC doors

Locks fitted to Composite doors
Whether you're locked out, you've relocated, or there was a burglary at your home or business, don't hesitate to call us! Our locksmith professionals will help you gain access to the property and improve your security. Here are a few of the things we can do for you: