Wall Painting
Why Not Let an Experienced Handyman Do the Wall Painting in Your Home or Office?
It is true that anybody can grab a brush and apply a layer of paint on the wall. However, although it seems like wall painting is the simplest part of any renovation process, the final result requires a skilled, precise, and experienced hand. Luckily, if you want to revamp your home, you can count on our professional decorators in London!
We can turn your most daring interior and exterior painting and decoration projects into a reality!
Let Handyman Near Me Take Care of Everything!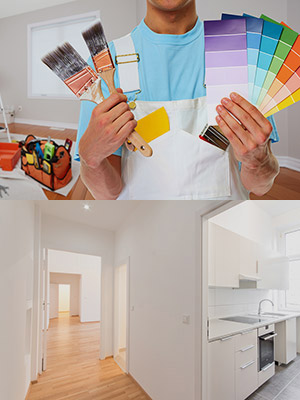 Your Ideas Turned into Reality
A team of trained and reliable painters will decorate your walls professionally turning your vision for your home into reality. If you don't have any particular idea, you can always rely on the professional advice of our experienced painters. Whatever your project is, you can be sure that the realisation will meet your expectations for quality work and dashing appearance.
Precision and Efficiency
We paint both interior or exterior walls will equal care and attention to the smallest details. We will carefully cut in corners and curves before we start working with colour. This way we make sure there are no accidental streaks and other unsightly mishaps. Our professional decorators' dedicated work guarantees efficient use of materials and beautiful end result.
Fast and Clean Painting of Walls and Ceilings
Working with colour can leave a big mess if handled by amateurs. Our handymen will not only do a fantastic job transforming the walls, but they will also make sure to leave your property in a pristine condition. After we are done, you will be able to enjoy the fresh new look of the walls, without having to worry about cleaning splashes, dust, empty boxes or used consumables.
Quality Products On Your Request
One of the most time-consuming tasks related to painting is searching for high-quality products in colour and texture that best fits your property. We value your time, and this is why we can provide you with a great variety of colours and styles on your request at a competitive price. In addition, we can also offer a great choice of protective or heat reflective coating products for your walls.
Benefits Booking Handyman Near Me
Wall Painting Services

Skilled and reliable professionals

Same day bookings available

Decide when to get the work done

Rely on us in an emergency situation

Enjoy a wide service coverage

We cover all London boroughs