Emergency Locksmith Service
Why not call a skilled locksmith handle all your emergencies?
Oftentimes we can't open the door of our home. Every time when this happens, we hurry and have no time to wait for somebody to come and help us (friend, beloved one etc.). In view of this, we try to do everything within our power like pulling, pushing, trying to take out the key from the lock, but the only thing we do is to make the situation worse. It is even possible to break the keyhole that hardly will fix the problem. Unless you remove the entire door straight away…
Book a same day service with a professional London locksmith now
Our experienced and polite locksmiths can perform all sorts of services. For example, our tradesmen experts can help with:
Emergency Repairs After Forceful Entry
Let Handyman Near Me take care of everything even on the same day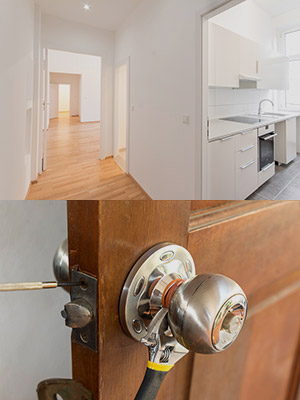 If you faced this unpleasant and making you lots of inconveniences situation (especially when you are in a hurry to work), maybe you have been asking yourself what you can do. When you are stuck in your home (or in front of it), more than everything you need some experienced locksmith who to "save" you from the trap you are caught!
If not only your lock needs to be repaired or changed, but the frame of your door or even the door itself must be renewed too, use the occasion and tell the locksmith what else you want to be fixed.
We will come immediately, will change or repair your lock and you will be able to feel the freedom again! We work fast and well, as all our locksmiths are skilled and confident about what they are doing.
When you find yourself locked out of your home or flat, contact us and we can grant you access to your property without any damages.
Benefits Booking Handyman Near Me
24/7 Locksmith Services
Experienced and reliable locksmiths
Same day bookings available
Decide when to get things done
Rely on us in any emergency situation
Enjoy a wide service coverage
We cover all London boroughs
When you notice that things are in a sad state while trying to unlock, stop and call the locksmiths from Handyman Near Me. Explain the situation and listen to what they will advise you on the phone. Be patient until they come and do not keep trying to fix the lock. As we said, it's very likely to set a bigger mess in and in addition to the locksmith you should also to use carpentry services. When you don't find a way out of a situation and looking for escape way, call our 24-hour emergency locksmiths located in London and they will come to you immediately!
When you don't find a way out of a situation and looking for escape way, call our cheap locksmiths located in London and they will come to your rescue immediately!
Call our local locksmiths when you need a help with your lock at any time of the day. We will support you with the greatest of pleasure!