Emergency Locksmith London
Why not call a skilled locksmith in London to handle all your emergencies?
Getting locked out of your own home is incredibly frustrating, which is why, when you need a locksmith in London, you need someone who knows the ropes and responds quickly. Don't panic if you can't get access inside, and don't beat your frustration down on your door. Instead, give Handyman Near Me a call, and we'll come to your rescue! 
We know that when you need a London locksmith, chances are you won't be calling to book ahead. You need to get in now or else find somewhere else to spend the night. Call us when you're looking for a locksmith near me, whether you need a new lock installed, changed, or an emergency repair. We will come fully equipped to handle any issue, it shouldn't take long before you can get on with your day and forget it ever happened.
Get Your Locks Fixed With Emergency 24 Hour Locksmith Services
Our experienced and polite locksmiths in London can perform all sorts of services. For example, our tradesmen experts can help with:
Emergency Repairs After Forceful Entry
When Can an Emergency Locksmith Help?
There are many emergencies when the help of a trained locksmith is a must! Being locked out is just one of them. Here are some of the situations that require immediate professional assistance:
Retaining Key Authority
When you move to a new property, you don't want to run the risk that the old owners still have spare keys lying around. Give yourself peace of mind and get your locks changed professionally so that you and your family are the only ones with a key.
Lost Keys
Losing the keys can happen to anyone, it isn't much of an issue if there is someone home to open for you. However, if that's not the case, an emergency locksmith can come, cut you a new key, or simply open the door to help you get back inside fast and easy.
Signs of Forced Entry
A few things are more stressful than coming home just to find there was a burglary. Even forced entry attempts are enough to raise a concern as no one should feel like their safety is at risk. An emergency locksmith can help by changing the locks and repairing the damage.
Stolen Keys
Calling a certified locksmith ASAP is the first thing you should do if you suspect that your keys were stolen! You should also notify the authorities, your insurer and your landlord if you're renting. But calling an emergency locksmith comes first if you want to ensure no one can enter your property without your consent.
Doors and Windows That Don't Lock 
Burglars rarely go for the front door if they have other, less-visible points of entry. If you notice that any of your ground floor windows don't close, don't hesitate to call an emergency locksmith. The same applies to garage doors and backdoors that are difficult to operate and lock. Don't leave your safety to chance!
Damaged or Broken Locks
Whether installed inside or outside, locks get lots of wear and tear over time. Humidity, cold, heat, and even improper maintenance can lead to damaging both windows and door locks, but luckily we can help. We will come to your address, inspect the situation and repair the lock for you.
Let Handyman Near Me take care of everything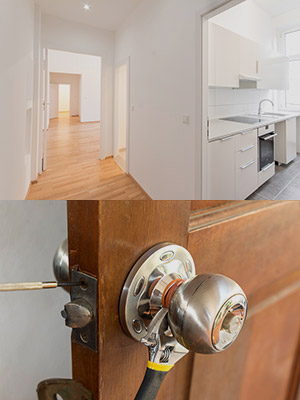 Lock Fitting
Are you adding a rental apartment to your estate or moving into a new home? Or perhaps you need more security on your property?
Handyman Near Me offers professional lock installation and change service for your home or business in London. And if you don't have the time to go lock shopping – don't worry! We can supply you with a wide variety of locks in compliance with the BS3621 standard.
Our locksmiths will install new and secure high-quality locks on your doors and wherever else you need in a flash. We can also fit new ones on windows, interior doors, furniture and postboxes.
Lock Repair
Broken or jammed lock? Stuck key? Whatever your lock issues are, our London locksmith pros are here to help!
A repair is far easier and faster to do than a replacement job, so next time you experience any lock malfunction, give us a call first. We will advise you on what steps to take and send someone over from our team immediately. We service all London boroughs and are available 24/7.
We also offer same-day appointments, so if you discover the lock issue before you leave for work, you can schedule us to fix it when you get back home.
Lock Out
Being left with no access to your home or office can happen to anybody. Book our local locksmith service when you find yourself locked out. We can grant you access to your property without any damages. We will get out to you ASAP so that you can open or repair your door lock and get back inside in no time.
Our locked-out service is just what you need if your keys get lost or stolen because we can cut you a new one even if you don't have a copy. Call us up, and we will send a certified locksmith to your address anywhere in London.
CCTV Installation and Repair
Suppose you need to increase the security of your business or residential property. In that case, you might have already considered getting CCTV monitoring. Handyman Near Me can provide you with a fast and reliable CCTV installation service for all your needs.
Whether you need a home security system or cameras to monitor a construction site or commercial venue, you can count on us! We also offer repair services for various types of security systems. So, if you have any issues with the video monitoring of your property, we are ready to help it back on track.
Locksmith Services by Handyman Near Me
Whatever your lock emergency, Handyman Near Me can send a certified and experienced locksmith to your home or business anywhere in London. We can handle various types of doors and window locks, replace faulty parts and align the windows and doors to ensure they open, close and lock properly. You can count on our professionals to deliver fast and reliable locksmith services in all London areas. Here are a few of the jobs we can do for you:
24/7 Emergency locksmith service

Supply you with locks in compliance with the BS3621 standard

Locked out service for all London Boroughs

Cut you new keys for various types of locks

Extract stuck or broken key

Install new locks on windows, doors, post boxes or furniture 

Repair the locks for doors & windows 

Non-destructive emergency entry

Install and repair CCTV and security cameras
Types of Locks We Can Repair, Replace and Open
UPVC door locks & Aluminium door locks

Composite door locks

Garage door locks

Patio door locks

Mortice Locks 

Night Latches, Rim Locks & Yale Locks

Window locks – double glazed, UPVC, wooden, sash window locks
Benefits of Booking Handyman Near Me
24/7 Locksmith London Service

Experienced and reliable locksmiths

Same day bookings available

Decide when to get things done

Rely on us in any emergency situation

Up-front and affordable prices

We cover all London boroughs
Our 7 days a week services cover a wide range of home projects, making us the perfect call when you need a home-related fix at an affordable price. You can count that our fully qualified locksmith will rescue you from a night locked out of your home. We will always aim to repair the lock when possible rather than to replace it to keep your costs down. Just do us a big favour and don't try to fix the lock on your own! Our equipped London locksmiths will get to you and fix the problem right away! Some situations require more drastic measures, but we can offer more than a locksmith solution. Suppose your lock has been forced so severely that it compromised the door's integrity. In that case, we can provide you with a full door replacement plus installing a new high-security lock.
Whatever your lock issue, let us be a part of the solution. Give us a call today to learn more about our full range of locksmith services and, of course, to get a free price quote on the spot.