Installation and Odd Jobs Services
Why let a skilled handyman handle all the boring, manual odd jobs around your home?
It would be so wonderful to have a skilful pair of hands we can operate with. Then, we will be able to fix the hanging door handle or the window that jams unassisted. The need of professional services won't be known to us, as the only reason why we would call handymen could be a huge problem with the water-main!
Get your home up and running with our professional odd job service
Our experienced and hard working handymen can perform all sorts of odd jobs. For example, the tradesmen experts can:
Mirrors & Pictures Hanging

Blinds and Curtains Fitting
Let Handyman Near Me take care of everything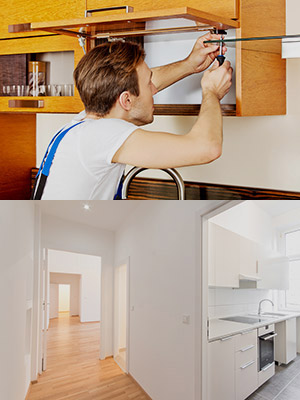 Our skilled technician will visit your home and mount your TV set at the right spot. All work carried out by our handymen adheres to all safety standards and protocols. We work with all types of brackets – multi-positional, tilting or flat-to-wall.
Hanging Pictures and Mirrors
Regardless of the shape or size of your picture frame or mirror, our polite, quick, and capable technicians will carry a wide assortment of tools and materials to hang your artwork in a safe manner. We provide all tools and equipment necessary for the job.
Fitting Blinds and Curtains
After working on many home renovation projects over the years, our polite and skilled handymen have the know-how to help you with anything from mounting curtain fittings to performing blind fixing. Regardless of the task, our team will fix your window accessories in the most efficient way possible.
Entrust your electrifying tasks to experienced technicians.
Why grab a pair of wire cutters and hope for the best when licensed help is just around the corner? Each London specialist is fully qualified and has years of experience in their respective field, and it shows – diligent and polite, they have earned the trust of thousands of satisfied customers.
Benefits Booking Handyman Near Me
24/7 Installation and Odd Job Services
Experienced and reliable electricians
Same day bookings available
Decide when to get things done
Rely on us in any emergency situation
Enjoy a wide service coverage
We cover all London boroughs
As a matter of fact, most of us do not have the so called "hands of gold" that just like a magical wand repair and set in the right place everything. In real life, we have to call somebody skilful and ask him to help us with the toilet seat or the baby-proof catch we can't fix ourselves! Have in mind, that in most cases our relatives, friends or neighbours are too busy to spend a few hours staring at the lock – even if they have the knowledge to fix it!
We advise you not to call your friends or acquaintances – they are not to be relied on. And do not get us wrong… They may very much want to help you when something in your home needs to be repaired but to do not have the opportunity to do so.
Hire a professional company for "odd jobs" and put in order your lodging! You can fix, install and replace whatever you want without having the need to call somebody than the professional company! Regardless of what it is about, the professionals will fix it and you will remain fully satisfied.
Describe your problem; tell us when it will be convenient for you to come and we will respond to your call. In case you are nothing to understand about technical issues, just take a photo and send it us by email. This is a great option that will make the whole procedure easier for you! Thus, we can also plan how much time the work will take so that to avoid the disturbance to your daily routines. Yet, we are there for you 24/7, as our team of experts will be more than happy to discuss with you how they can help you! Do not hesitate to contact us anytime you need!
Fix your locks, drafty windows or cupboards. Install a safety stair gate, or replace your old doors by using the "odd jobs" service that Handyman Near Me offers to the homeowners who do not have skilful hands neither time to bolt the door hinge!