Painters and Decorators
Why not let a skilled painter carry out all painting and decoration jobs around your home or office??
It is amazing what a fresh coating of paint can do for your home right away! Painting and decorating are undoubtedly among the quickest renovation jobs. And if they are done right the house instantly gets a luxurious new look. Take advantage of our professional painting and decorating services in London and get a fast, easy, and clean transformation of your home or office!
GOur skilled painters and decorators in London will give your home amazing look.
The multi-skilled handyman in our team can carry out all sorts of painting and decorating jobs for your residential or commercial property. Here are some of the services we can provide for you:
Let Handyman Near Me take care of painting and decorating for you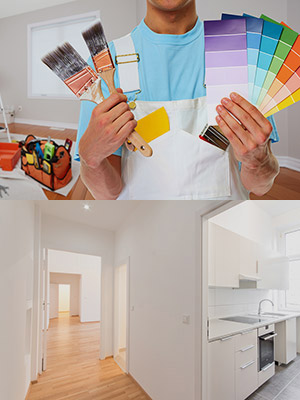 Book our painters and decorators in London if you want the final touches to your interior or exterior walls to be finished by experienced professionals. Whether you are finalising a big renovation project or you just want to revamp a room or two, we will do deliver excellent quality and outstanding results. We will paint and decorate interior or exterior walls with precision and care.
Our painters in London can breathe new life in any kitchen furniture – sideboards, cupboards, cabinets, and other kitchen furniture. Our experienced handyman will skillfully cover any old scuff marks or scratches when painting the kitchen cabinets to make sure they look as good as new. Moreover, if you don't have time to go shopping, we can provide you with a rich colour palette of high-quality wood paint to choose from.
A well-done plastering of walls and ceilings is an essential stage of the painting and decoration process. Be it a finishing job after a major renovation or just filling holes and cracks in the surface you want to redecorate, you can rely on our skilled handyman to deliver a high-quality result.
Our experienced professionals will use their skills to help you in painting door frames, wooden windows, glass doors, and anything else your property requires.
Benefits Booking Painters and Decorators Near Me
24/7 Painting and Decorating Services
Reliable painters and decorators
Same day bookings available
Decide when to get things done
Rely on us in any emergency situation
Enjoy a wide service coverage
We cover all London boroughs
You can count that your Handyman Near Me will deliver excellent results in when redecorating the furniture in your home or office. You can book our door and window painters in your area and save yourself a lot of time, money, and efforts. Book our plasterers and enjoy a smooth, luxurious look of walls and ceiling in your commercial or residential property. We can also provide a range of plastering services in London – from wallboard installation to rendering of exterior walls.