Painters and Decorators
Why not let a skilled painter carry out all decorating work around your home or office?
In order to fully enjoy our relaxation after work, we have to furnish and arrange our home in the best way possible. Thereby, we will be able to take a rest surrounded by a cosy environment. We have to take care of the place where we are living in the same way that we take care of ourselves… – What does this mean? It means that you better contact our professional London painters and decorators!
Get your home up and running with our skilled painters and decorators in London.
Our skilled painters and decorators can perform all sorts of painting and decorating jobs. For example, our tradesmen experts can:
Doors and Windows Painting
Let Handyman Near Me take care of everything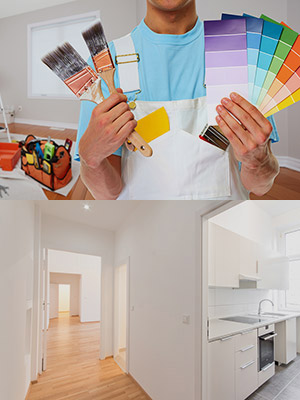 If every now and then you get the urge to repaint your living room or bedroom, contact our team. Don't spend lots of time and effort that you could easily spend elsewhere. We can handle everything for you. We will send experienced decorators who will help you rekindle the long faded colours of your home or office walls.
Our local painters have extensive experience painting kitchen cabinets. They can breathe new life into sideboards, cupboards, cabinets, and other kitchen furniture. Our skilled handymen will work carefully and ensure that any old scratches or scuff marks are successfully masked with a gently applied coat of quality kitchen cabinet paint.
Your home is under constant pressure as seasons change. It expands and shrinks due to temperature changes. As a result plaster cracks start to mar the edges of your ceiling and walls. Our skilled experts can fill in plaster cracks and holes with hard-wearing wall plaster, giving your walls and ceiling a nice and smooth finish.
Our skilled painters and decorators at Handyman Near Me will use their paint skills to help you in painting door frames, wooden windows, glass doors, and anything else your property requires.
Benefits Booking Painters and Decorators Near Me
24/7 Painting and Decorating Services
Reliable painters and decorators
Same day bookings available
Decide when to get things done
Rely on us in any emergency situation
Enjoy a wide service coverage
We cover all London boroughs
Many people think that if they spend lots of money for too expensive furniture, will do the best for their homes. And very often they do not pay attention to the smaller details like: decorations, painting etc. That's why they always have the feeling that something is missing and keep buying unnecessary things! Stop doing this and just look at your walls – are they painted in an appropriate color? Or you can't estimate, but it seems like something is missing?
No matter what color do your walls have, you can refresh it or even change it. You can also make some interesting decoration that to create a special sensation in you and that to diversify the appearance of your home. You probably know that even a color therapy exists, which is the best proof for the efficacy of the suitable colors. They can make better our mood and vice versa – to make us feel blue!
Handyman Near Me is a leading company when it comes to painting or decorating of homes, commercial offices, retail outlets etc. And even that we have many other services, to make your home beautiful and cozy is the sweetest part of our professional activity! We love to create beauty and are very good at this… If you hire our team will make sure that your home, office or shop/studio may look completely different.
We are proud to say that everything we do is good enough to be ranked as a professional performance. And when it comes to painting and decorating, we can offer you not only quality materials, but reasonable cost, speed and customer-friendly attitude too! So, if your office needs a fit-out or you think that actually it must be completely renovated – contact Handyman Near Me for same day service. We'll be your trusted partner who will transform your house or workplace in a way that will make the premises unrecognizable and much more beautiful than before!
Have a wonderful home and trust our London painters! Restore the exterior of the building where you are living, or decorate the interior by expressing yourself. Be sure that we are just as inspired as you, while our strong motivation will create miracles with your home!