Why not call an experienced locksmith to handle the lock repair for you?
When your key doesn't turn fully, or it has become difficult to insert it, then it's time to repair the lock. Fixing the problem on time helps avoid more serious issues – like losing access to your property. Don't hesitate to call Handyman Near me whenever you need a reliable lock repairing service in London! We can fix a wide variety of door and window locks in your home or your business at a competitive price! Call us, and a certified locksmith equipped with all the tools and hardware necessary to repair the lock will soon be with you to help.
Book a locksmith in London with us and get a fast and reliable lock repair service in London 24/7!
Handyman Near Me offers professional lock repair services in London for various situations such as:
Your door or window won't shut

Your door or window won't lock / key won't get in

The key goes inside but won't turn

The key turns in the lock, but the door won't open
Let Handyman Near Me repair your lock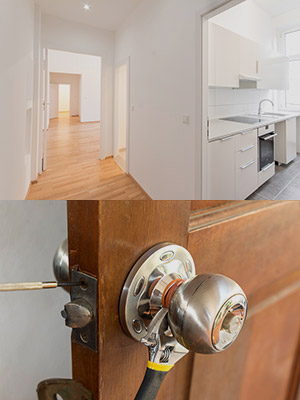 Door or Window Doesn't Shut Close
There are many reasons why a door or window won't shut properly, and it doesn't necessarily mean that the lock is broken and can't be fixed. The culprits behind this problem might be a misaligned lock strike, a mechanical failure or wear of some parts like latch, rubber seal, or handle, especially in UPVC windows and doors. If your door doesn't shut properly, book our lock repair service now. We can realign the door or window, replace the faulty parts and adjust the strikes to make sure it closes fully.
The Door or Window Doesn't Lock
One of the most common reasons behind this malfunction is a jammed lock. Severe weather, rust, wear and tear, and even – a part of a broken key left inside the lock may prevent it from working well. Of course, the problem might be a worn-out key or a badly cut one. Don't wait but call us as soon as your door or window lock becomes difficult to operate to prevent permanent damage. Our locksmiths will come fully prepared to repair the lock or even cut a new key if yours is worn out and doesn't lock.
If your key goes in the lock, but it won't turn, this could mean that there is an issue with the door's alignment or a badly cut key. Other reasons why the key won't turn can be general wear and tear or if the fitted lock is of a cheaper variety. If it's the former, we can repair the lock or cut a spare key. However, if it's the latter, the lock has to be replaced. Whatever the cause, don't hesitate to call us when your key doesn't turn, and we will send an experienced locksmith to your address.
The Key Turns But the Door Doesn't Open
That is a common problem with Composite and UPVC doors and euro cylinder locks. If you can insert and turn the key, but the door won't open, this can be because the multi-point lock is damaged or jammed. The culprit might also be a stuck security bolt or hook. Another reason the door wouldn't open when you turn the key is a forced up handle of UPVC doors as these delicate mechanisms often break. Book a lock repair, and we will soon be with you to fix the issue and grant you access.
Benefits Booking Handyman Near Me
24/7 Locksmith Services

Certified and vetted professionals

Emergency booking

Providing locks approved to BS3621

Fast and reliable lock installation

Local locksmiths 

Wide variety of professional services

Book us anywhere in Greater London
Locksmith Services by Handyman Near Me
24/7 Emergency locksmith service

Supply you with a new lock

London locked out service

Cut new keys for various types of locks

Drill the lock to extract it

Fit a new lock  

Repair the locks for doors & windows 

Non-destructive emergency entry

Installing CCTV and security cameras
Types of Locks We Can Repair
UPVC door locks & Aluminium door locks

Composite door locks

Garage door locks

Patio door locks

Mortice Locks 

Night Latches, Rim Locks & Yale Locks

Window locks – double glazed, UPVC, wooden, sash window locks
Whether you're locked out without a key, you need a lock change for insurance reasons, or you need to upgrade the security of your home, don't hesitate to call us! You can count on our certified professionals to deliver fast and reliable locksmith service in all London areas. Here are a few of the jobs we can do for you: